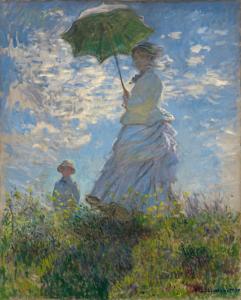 Claude Monet
(1840-1926)
French Painter
Monet is one of the pioneers of impressionism. His painting Impressionist Sunrise is where the term actually came from. It was used by a critic as a diss. Calling it an "impression of a painting" (as apposed to a "real" painting). However the painters liked the term and adopted it. As an impressionist he desired to "Paint the very air". He didn't want to just paint a realistic scene, he wanted to capture the feeling, the time of day and time of year.
Monet started out as a cartoonist painting caricatures of public figures. He later transitioned into painting and went to art school. His father did not approve of this and cut his allowance.(1) In school Monet was roommates with Auguste Renoir another famous impressionist artist. They were both very poor and sometimes lived on only beans.
Unlike many other artists Monet did live to see some of the success of his work. His paintings began to sell for more and more money and he was in more and more exhibits. He was even able to buy a home with a garden. He landscaped the garden just the way he wanted it to create beautiful open air landscaped.
Quotes:
"For me, the subject is of secondary importance: I want to convey what is alive between me and the subject." - Claude Monet
1. Heinrich, Christoph, "Claude Monet", Taschen 2007
Gallery
Landscapes

Seascapes

---
---