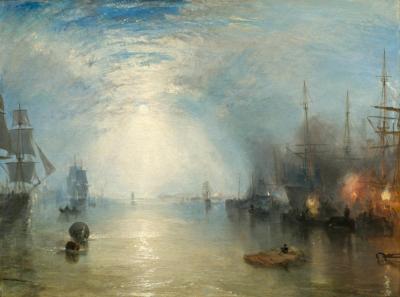 Joseph Mallord William Turner
(1775-1851)
English Painter
Turner is known as the "painter of light". His painting display glorious light and color. From an early age he was a great painter. As with many other great painters in his later years he began to experiment more and more with new ideas.
Influenced by the book "Theory of Colours" by Johann Wolfgang von Goethe, Turner began to experiment with color. He proved that you could show dimension only using color. Simplified it is the idea that worm colors appear closer against a cooler color like blue or violet. This idea was later carried even further by Paul Cezanne.
Turner was also a big influence on the impressionists. He began to simplify landscapes using color composition to show the atmosphere and feeling of the scene. Some of his later paintings look very similar to Claude Monet.
Amazingly, some of Turner's paintings even appear abstract. He uses simplified shapes, sometimes only a swatch of color and texture
Like William Blake, Turner was also a voice in standing up against the evil slave trade going on at that times. He depicts a boat out at sea that has thrown over dead or dying slaves. This help bring awareness to the issue.
Quote
"I did not paint it [a painting being criticized] to be understood, but I wished to show what such a scene was like". - J. M. W. Turner


1. Bockemuhl, Michael, J.M.W. Turder - The World of Light and Colour, Taschen 1991
Gallery
Landscapes


Seascapes





---
---