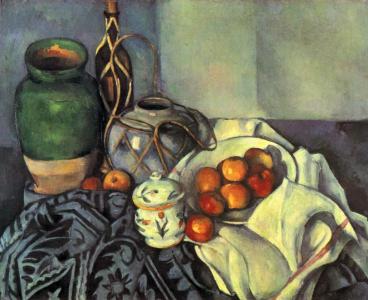 Paul Cezanne
(1839-1906)
French Painter
Cezanne is a famous Post-Impressionist French painter considered to be the father of modern art. Pablo Picasso considered him to be his painting father. Henry Matisse owned one of his bather paintings and wouldn't sell it no matter how hard times got. Matisse later donated it to a museum for others to be inspired by. That is how renowned the great painter Paul Cezanne became.
Camille Pissarro was a close friend of Cezanne's as well as a mentor. Pissarro encouraged Cezanne to "Work on the sky, the water, the branches and the earth simultaniously, and keep on improving what you do until the whole thing works." (1). This challenged Cezanne to see the composition as a whole and consider how the colors worked together. Both artists would often pain the same thing. Cezanne even reproduced one of Pissarro's master pieces.
His paintings were all about experimenting and discovery. He would describe his later work as using "modules" of color. This style would later inspire Picasso to pioneer cubism. The simplifying of forms to make strong compositions would continue on in art long after his life was over.
His experimentation with perspectives would also live on. In his still life paintings objects have different perspectives and angles. The fruit looks like it could fall of the table at any minute. The table will be angled different on each side of the table cloth. These weren't mistakes but intended to give the painting more drama and intrigue. This style inspired the landscapes of a modern painter Wayne Thiebaud.
Cezanne has inspired many artists. His legacy continues.
"We should not be satisfied with strict reality, the re-forming process witch a painter carries out as a result of his own personal way of seeing things gives a new interest to the depiction of nature. As a painter , he is revealing something with no-one has ever seen before and translating it into the absolute concepts of painting. This is, into something other than reality." - Paul Cezanne Quote
"Light is not a thing that can be reproduced, but something that must be depicted using something else: colours." - Paul Cezanne Quote
1. Becks-Malorny, Ulrike. Paul Cezanne. Taschen, 2006. Print.
Links:
Learn more about Wayne Thiebaud -
www.artsy.net/artist/wayne-thiebaud
Gallery
Landscapes



Still Lifes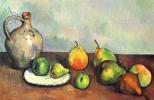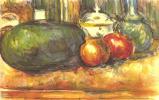 ---
---